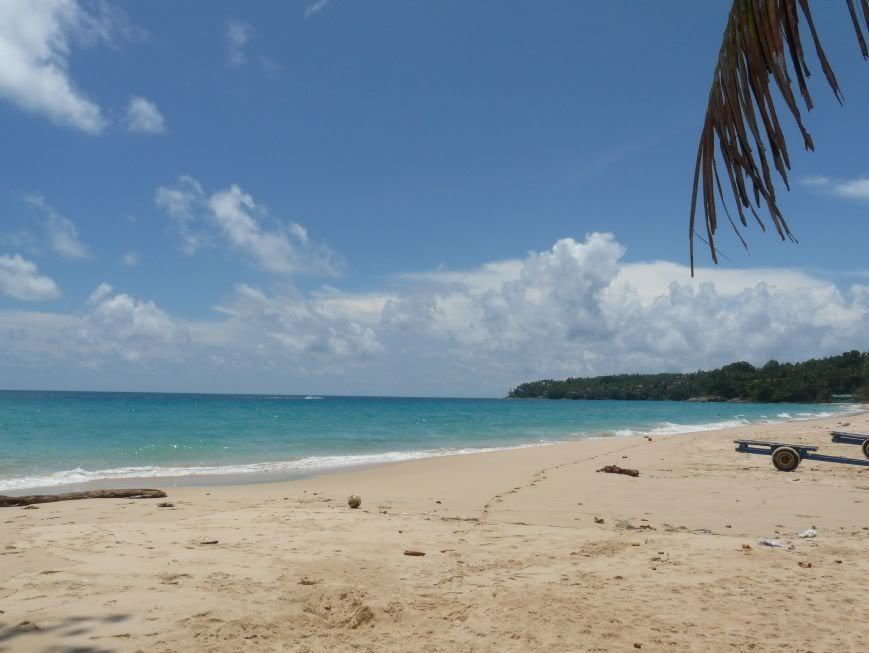 Ah, Phuket, I had such high hopes for thee. Hearing the word Phuket — at least since I learned it was a place name, pronounced "poo-ket", and not an expression of frustration with a different pronunciation — has always brought to mind calm, teal waters, crispy sunbathers strewn across bone-colored beaches, and palm crowns shimmying in the salty breeze. And on these fronts Phuket did not disappoint. Unfortunately, on most other fronts it did.
There are three major qualifiers I should mention before I proceed. One, I am not a spread-a-towel-on-the-sand-and-sunbathe kind of guy — in fact, I'm nearly translucent — so I'm looking for more than the kind of experience that can be had in any given desert. Two, my trip to Phuket fell squarely during the low season, so surely I wasn't catching it in peak form. And three, I spent just two and a half days there, and perhaps with a bit more time my esteem of the island would have improved. It's telling, though, that after only two and a half days I was ready to kiss the carpet of the plane that carried me off.
Phuket suffers from a mild case of Cruise Ship Syndrome, in that once you're there, you're forced to pay inflated prices for things simply because you have no alternative: food, lodging, transport, internet access, and so on. This is a common phenomenon on islands. Easter Island, for instance, is similarly expensive, except that it bears the excuse of being separated from its nearest neighbor by 2,000 kilometers of ocean, and just about everything consumable has to be shipped or flown in. The distance between mainland Thailand and Phuket, on the other hand, is all of 600 meters, and it's spanned by a four-lane highway. Hmmm.
Then there's the omnipresent prostitution. Clearly it wouldn't be so prevalent if tourists didn't avail themselves of it, but I rather prefer to be able to walk down the street without having to politely decline the catcalls — if not the groping hands — of batteries of sex workers. It's tragic that, even with so much tourist money pumping into other sectors of the island's economy, so many young women are funneled into the sex trade. Again, this was the middle of the low season, but the prostitutes seemed to outnumber the tourists. That's a bad ratio for everyone.
I'd been forewarned about Patong, the rowdy heart of Phuket's tourist scene that's chock-full of western restaurants, bars, and nightclubs heralded by neon signs and pulsating speakers — it hosts three Starbucks franchises grouped so closely that, if you neglect to trim your nails for a few weeks, you can almost touch them all simultaneously — so I steered clear. I pre-booked a room in Karon, just a few kilometers and decibels south of Patong.
I generally like to explore new places by bicycle, but Phuket's size and hilly terrain don't lend themselves to cycling. And tuk-tuk drivers wanted outlandish amounts to ferry people around — 250 Baht just to make the short trip from Karon to Patong — so I opted for another mode of transportation: a rented motorbike. I think it's the ideal way to get around Phuket. Renting one for the day costs just 200 Baht, plus whatever fuel you consume, and of course allows you to go wherever you please. The roads are sinuous, the views stunning.
Atop my little, burgundy Honda Dream, I weaved through the mobs in Patong and headed up the west coast, stopping at beach after beach to take in the scenery. Faded red flags were posted all along the backshore to warn visitors about the low season's dangerously strong currents. The beaches are undoubtedly beautiful, but it was strange to see almost no one in the water.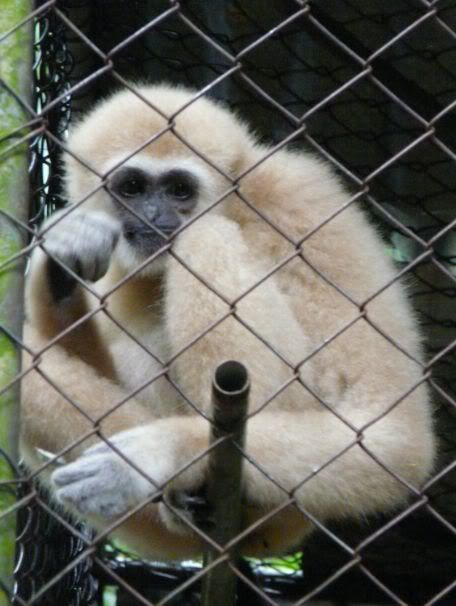 I rode an arc through northern Phuket and came back down the east coast, stopping for a couple hours at the Bang Pae waterfall (not much to see) and the adjacent Gibbon Rehabilitation Project (200 Baht entrance fee), a non-profit rescue and breeding facility for the adorable and highly intelligent apes. Because gibbons can fetch a lot of money — tourists buy them as pets or pay to have pictures taken with them — poachers seek them in the wild, slaughtering gibbon mothers to capture their young and exploit them on the streets. The project rescues such gibbons and, if possible, rehabilitates and returns them to the protection of a wilderness sanctuary. A very worthy cause.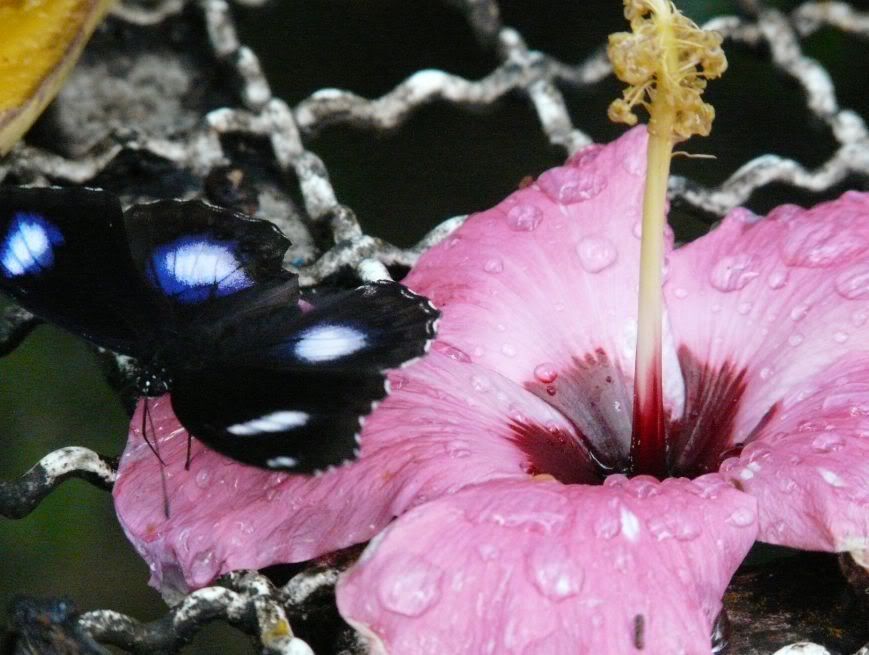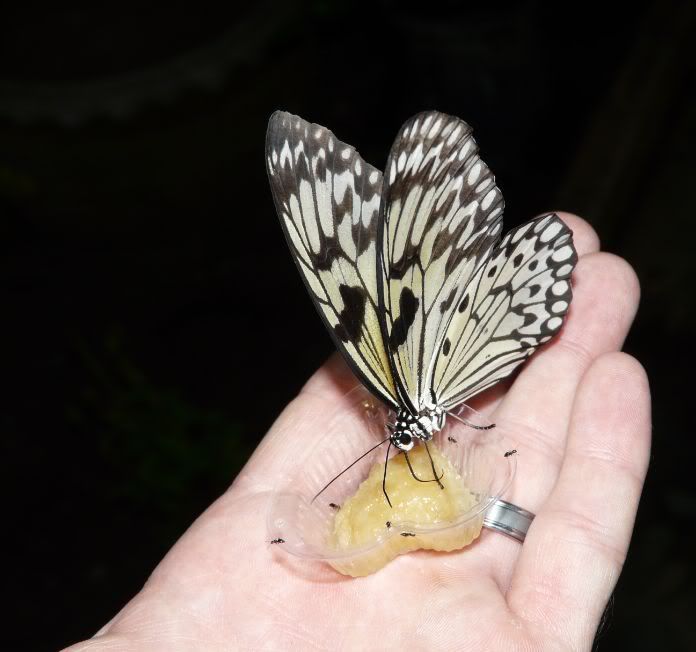 Next, I checked out the very well organized and informative Butterfly Garden and Insect World near Phuket town (300 Baht, a bit pricey, but worth it if you're a nerd like me). I was the only visitor there, having arrived near the end of the day, and I got the distinct impression that the employees wanted to shut down a bit early. "There are more butterflies to see this way, sir," one would urge, motioning me coyly into the next room. As I wandered dumbly into it, another unseen employee would slam and lock the door behind me. In this way, as if by peristalsis, I was cajoled through several exhibits and out the front door in under 30 minutes. These people were good.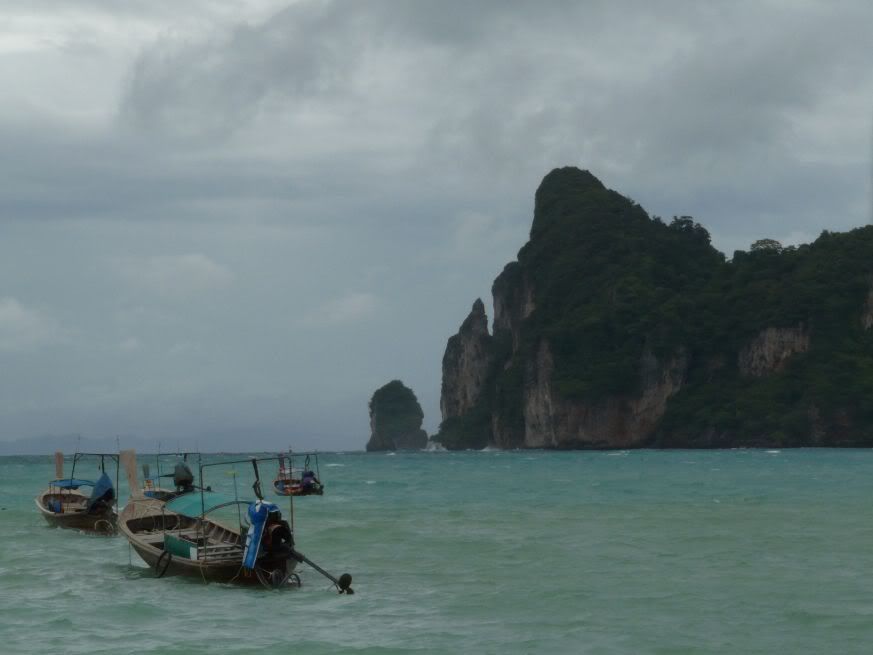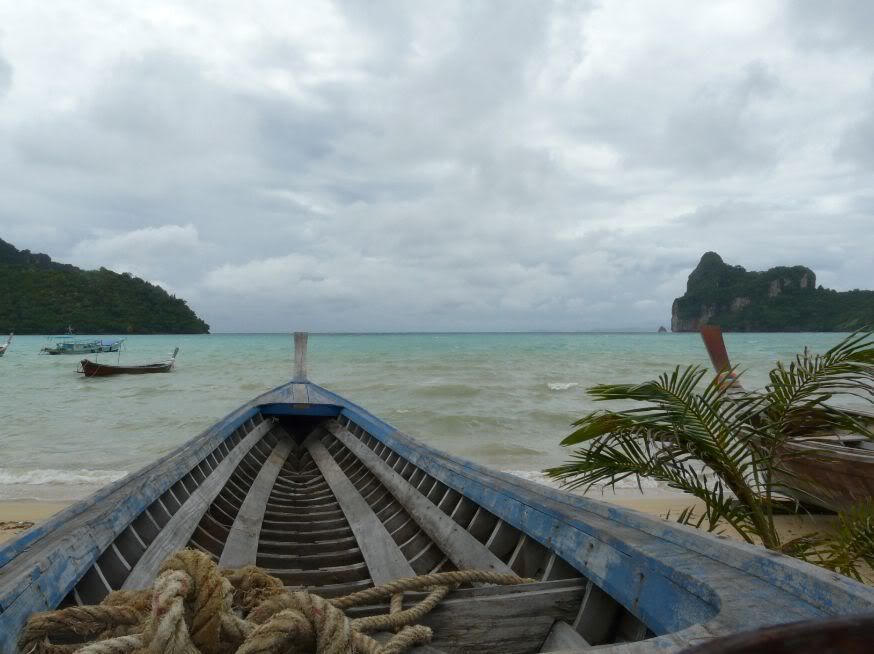 The following day I decided to book an all-day, all-inclusive snorkeling trip to Ko Phi Phi, a picturesque island 40 kilometers east of Phuket, about which I'd read nothing but raves prior to the trip. According to Lonely Planet, "Ko Phi Phi is so beautiful it will evoke tears." All the photos I'd seen of Phi Phi, and I'll add to them the above two that I took, corroborate that statement. The picture you don't see, however, is the one below at left, depicting what I was standing in when I took the other two. The island seems to have dived headfirst into tourism's flush pockets, with a ravenous appetite for its economic benefits but little concern for its environmental consequences. Everywhere I walked on the island, I had to step around discarded building materials, old shoes and clothes, plastic bottles, and other detritus of development. Phi Phi, incidentally, is pronounced "pee-pee", but it's turning into number two.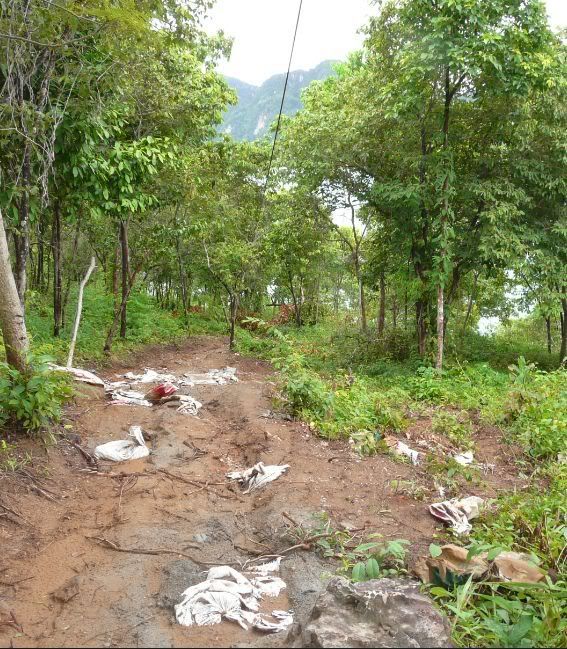 The "all-day" snorkeling trip was similarly deceptive, breaking down like this: two hours of shuttling back and forth to the Phuket harbor in a minivan, seven hours of transit and waiting around on two different boats, one hour exploring Phi Phi on foot, a thirty-minute lunch, and ten minutes of snorkeling. The snorkeling was amazing, if criminally brief, but I was put in a sour mood when the tour operator doled out our masks and snorkels but tried to extort another 100 Baht out of us for the use of flippers.
My flight the next morning was scheduled to depart at eight a.m., which meant that I'd have to leave for the airport around six. No minibus shuttles operate that early, and the cheapest taxi I could find would cost 700 Baht — more than twice the amount I'd paid to go the same distance in Bangkok — which seemed a fitting, wallet-cleansing way to end my stay in Phuket.
I don't know to what extent prices have inflated since the devastating tsunami struck in December 2004 — and I am more than happy to subsidize the rebuilding effort by paying a premium for food, lodging, etc. — but I can't help feeling that, given plenty of other gorgeous, affordable, and less trafficked beach destinations sprinkled through Thailand and Malaysia, Phuket's just not worth it.