Hanoi used to be my all-time favorite city for boutique shopping, but I have to say Phnom Penh is really threatening to take the top spot. Forget Bangkok and its designer-bag knockoffs — Phnom Penh is the place to buy a purse. Or twelve. And they're design originals at mind-bogglingly low prices. It's easy to find yourself unintentionally becoming the Imelda Marcos of gorgeous silk purses… To facilitate this process I've created a two-day shopping itinerary for you. We'll cover day one in this post…
You'll start off from the Pavilion Hotel, since that's where you're staying. Where else could you find a room with your own private plunge pool for less than $100? Just a block away is Street 240 — unassuming but packed with some of the best shopping in Phnom Penh.
You stop first at Couleurs D'Asie to pick up something from the world's best collection of essential-oil products from Siem Reap. I'm a fanatic for jasmine essential oil, my signature home fragrance, and I make a beeline for this store to pick up more every time I'm in Cambodia. Try the massage oils and scented travel candles, too! Couleurs D'Asie is better known for gorgeous silk bedding, scarves, and purses. I picked up a lovely scarf with the traditional krama pattern, but in silk instead of the usual cotton.
Next stop is Kashaya Silk/Subtyl Design, a store shared by two designers. Though they have quite a bit of typical product (silk change purse anyone?), I love this place for its belts, which combine raw and patterned silks with great hardware to match some of the most stylish and current belt trends. An excellent find.

Have you ever said to yourself, "What I really need right now is a fabulous frock"? And I do mean a frock, not just a dress. Jasmine creates a unique series of silk, taffeta, and organza frocks, some of them simple and others ornate, but all gorgeous. They're perfect for weddings and other special occasions. Though a bit pricey for SE Asia, they're still a steal compared to what you might dish out for something less original at Bloomingdale's. If you're the one getting married, consider getting the bridesmaid digs here. The gals will thank you.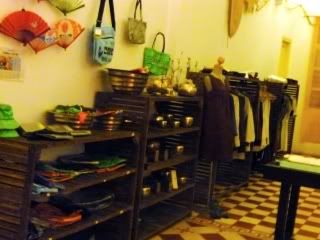 Next you'll head Elsewhere. Mostly known as a stylish bar and night spot (complete with a plunge pool! Yes, they're everywhere here. Enjoy it while you can…), my favorite things about Elsewhere are its cute clothes and bags. This is, hands down, my favorite place for incredibly versatile, delicate cotton tunics with innovative design. And they're cheap ($15 to $30 for shirts)! They also have great messenger bags made from recycled rice sacks. Perfect presents for my interns back at the office!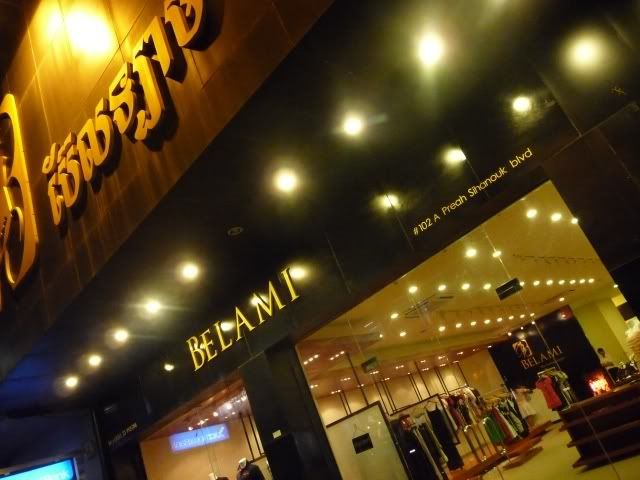 Finally, after walking down the street to the main thoroughfare and crossing really intense traffic, you'll find Belami. Ahh, Belami, you do torture me. If you're a size-zero fashion plate, this is your spot. I'm not entirely sure what the deal is with this place, but it sells high-end labels in sample sizes (from Hong Kong perhaps?) for an absolute steal. I still tear up when I think of the $69 Marc Jacobs I left behind because it was a tad small. Oh, who am I kidding? I'm lucky I got out of that dress without having to call for the Khmer version of the jaws of life…