My experience in Vang Vieng is only worth recounting for how singularly unsuccessful it was. Even before I left Luang Prabang, I should have sensed that my travel stars were misaligned or something.
Having arranged for the Vang Vieng-bound bus to pick me up at my guesthouse at 9 a.m., I was surprised to be summoned from the shower, dripping wet and partially covered, by the driver's knocking on my door at 8:10 a.m. He hadn't come to pick me up, only to tell me that he'd be back in 15 minutes to retrieve me. So I hopped back in the shower, performed my hygienic obligations, packed in a flash, and ignored my hunger pangs so I wouldn't hold him up. I spent the next 90 minutes in the lobby of my guesthouse awaiting him, sipping Nescafé through gritted teeth and daydreaming about the delicious, steaming cup of coffee I could have bought to douse him with.
Fast forward six hours. With just twenty kilometers between us and Vang Vieng, and as the gorgeous karst mountains outside my window began to hint at the beauty to come, it started to rain. No big deal, but from the resigned looks on the faces of cows we passed, I figured that either this town was on a beef-only diet or that the storm front wasn't going anywhere. The latter proved to be true; the rain wouldn't cease, even momentarily, for the entirety of my (admittedly brief) two-day stay.
Dropped off in the center of town, I immediately encountered a strange Vang Vieng phenomenon I'd read about but didn't want to believe: a succession of bars where backpackers lounged about glassy-eyed, drinking cheap Beerlao and laughlessly watching "Friends." It was a bit creepy how docile they were, as if they were all plugged into the Matrix and unaware that life had more to offer than decade-old sitcoms. It's quite possible that a few of them had swallowed blue pills, at any rate. But more on that later.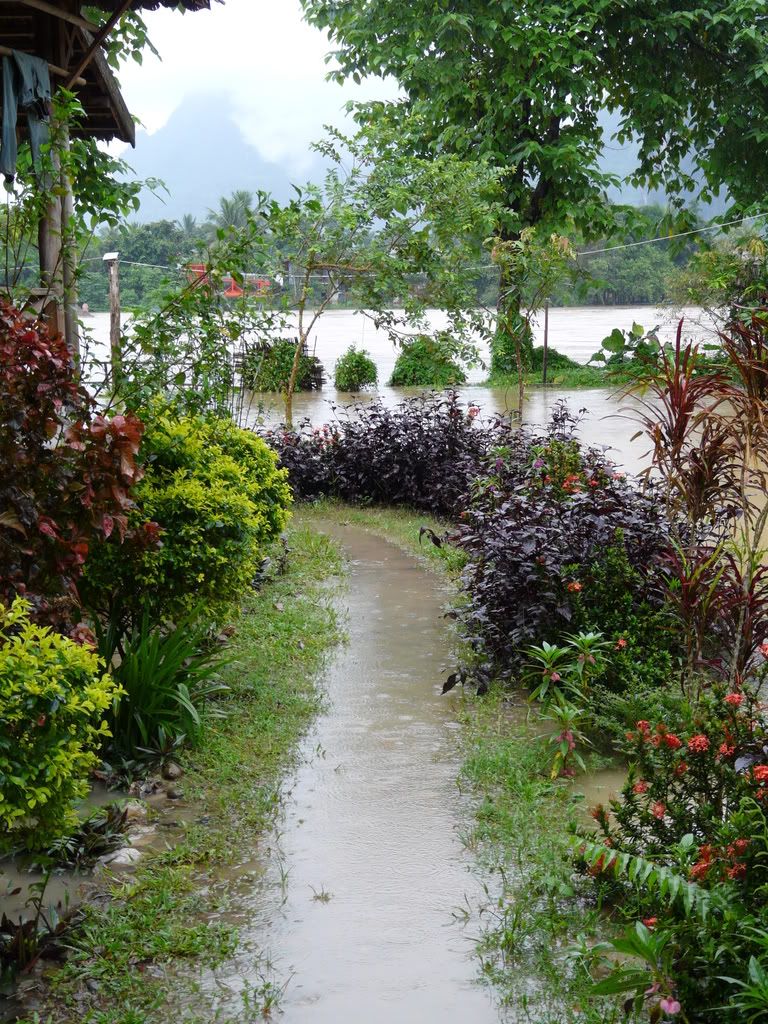 Determined not to be thwarted by the weather — or sucked into the vortex of must-see TV — the next morning I rode ten miles (and a couple extra, thanks to some illegible kilometer markers) out of town to see two guidebook-recommended caves. Due to the unrelenting rain, however, the river was too swollen and the current too powerful to safely cross. So back I rode, soaking and cold, to my guesthouse, where I retired with a book until dinner.
I'll mention here that my room, one of Le Jardin Organique's sparsely furnished riverfront bungalows, was the one high point (literally, fortunately) of my stay. The picture above shows the view from my porch of the Nam Song river after the first night's rains. This being the low season (and I was beginning to understand why), the room only cost $9 per night.
When my grumbling stomach finally forced me back out into the rain that evening, I found my way to the Organic Mulberry Farm Café, a restaurant operated by the farm of the same name that lies just north of town. I sat down and asked for a mulberry shake, a specialty of theirs, hoping mulberry and ice were the only ingredients. Which brings me to another of Vang Vieng's well known quirks (and backpacker attractors): the widespread availability of drugs to anyone with half a mind and a few thousand kip to try them. Blend 'em up in a fruit shake, bake 'em onto a pizza, whatever you want, just order it 'happy' and let it take you away. In case you're wondering, I ordered all my food 'cynical'.
Between courses and nursing a glass of the farm's own mulberry wine, I contemplated this strange town. That's when its brutal logic hit me. Only a brain massaged by the kneading fingers of psychotropic drugs could find watching a repetitive loop of "Friends" episodes to be a worthwhile diversion. And as "Friends"-with-no-end is one of the only viable activities here in a marathon rain, why not depolarize your brain with a substance some guy you don't know can stir into your smoothie?
The saving stroke of the trip was to be a kayaking excursion, already booked and paid for, down the Nam Song to Vientiane, which I'd been looking forward to all week. I had a bad feeling when I opened my front door after the second rainy night to this:
After waging an escape from my bungalow through a thigh-deep soup of river water and rubbish, I went to meet the kayaking guide, who told me that, although the river had been perfectly navigable the day before, today the water level was too high and the trip had to be canceled. Naturally.
With the proceeds from my refund I paid for the last remaining seat on the next minibus to Vientiane. Even in such dreary weather, this place was undeniably beautiful, but I was definitely ready to move on. I climbed into my seat and watched the rivulets of rain glide across the window for a while after we pulled out of town. And then the sun came out.