(…continued from previous posts)
My tiny alarm clock set to beeping at 4:15 a.m. the following morning. In a semi-lucid state I managed to silence it, sluggishly pondering why on earth I'd wanted to wake up so early. Oh, that's right, the famous Huang Shan sunrise. Now I'm not ordinarily a wake-at-an-unholy-hour-to-watch-another-day-begin kind of guy, but the sunrise over Huang Shan's North Sea was said to be breathtaking. Of course, at a mile high and with an intimidating number of stairs separating you and each next glorious vista, 'breathtaking' is an adjective you can use pretty liberally in describing this place.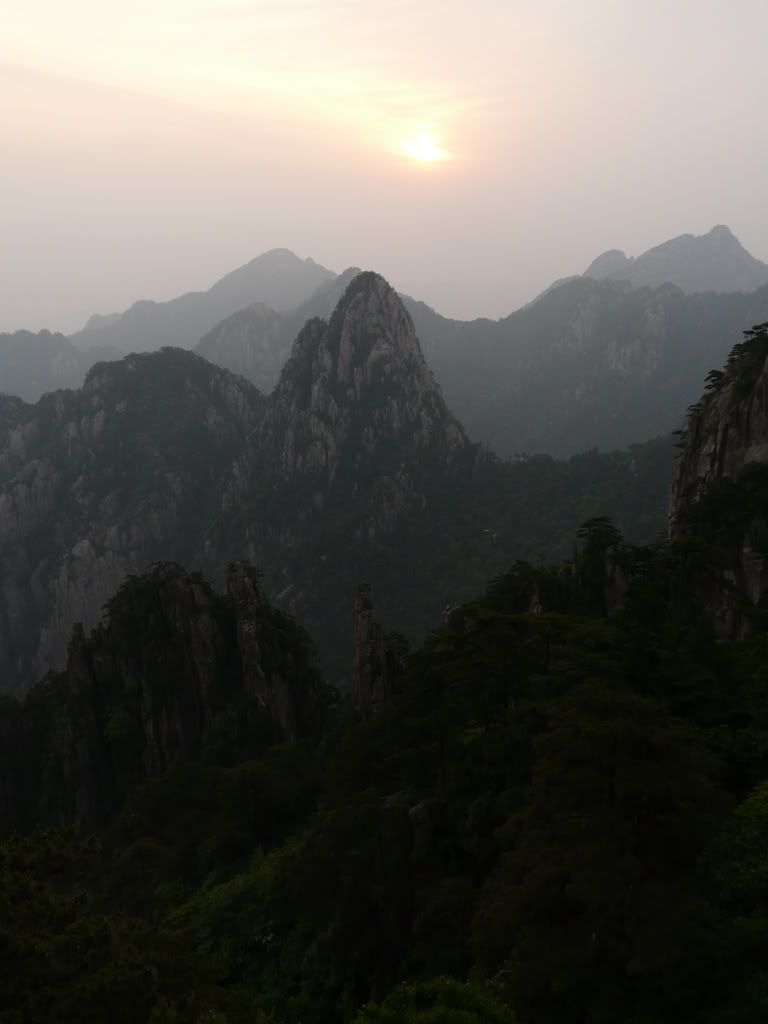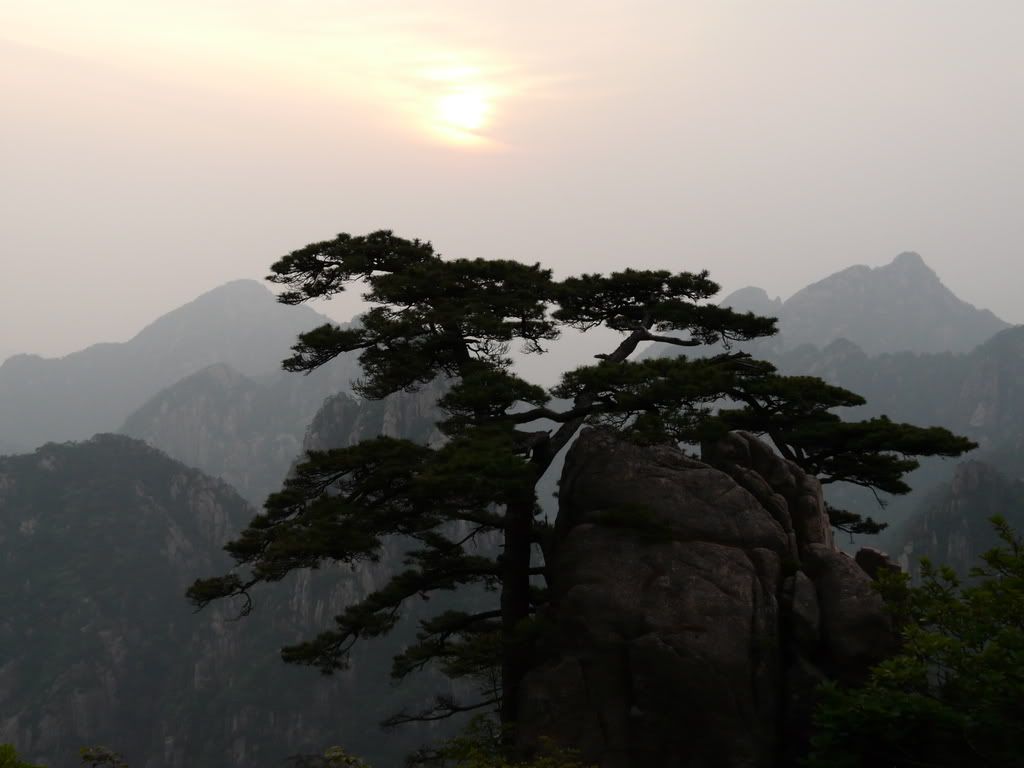 On the right day the sun emerges brilliant from behind peaks a distance to the east, and a rolling "sea of clouds" nestles in the valley between. Today there were no clouds, but my awe was not diminished for it. I lingered around the North Sea area, climbing from lookout to lookout long after most of my fellow sun-gazers went back in for breakfast. I was certainly intoxicated by the view, but with an aching back and tender legs, I was probably subconsciously trying to delay what lay ahead. The previous day's trek had been straight up the 7.5-km eastern steps; today I would take the winding and strenuous 15-km western steps around the various peaks and back down to the mountain gate.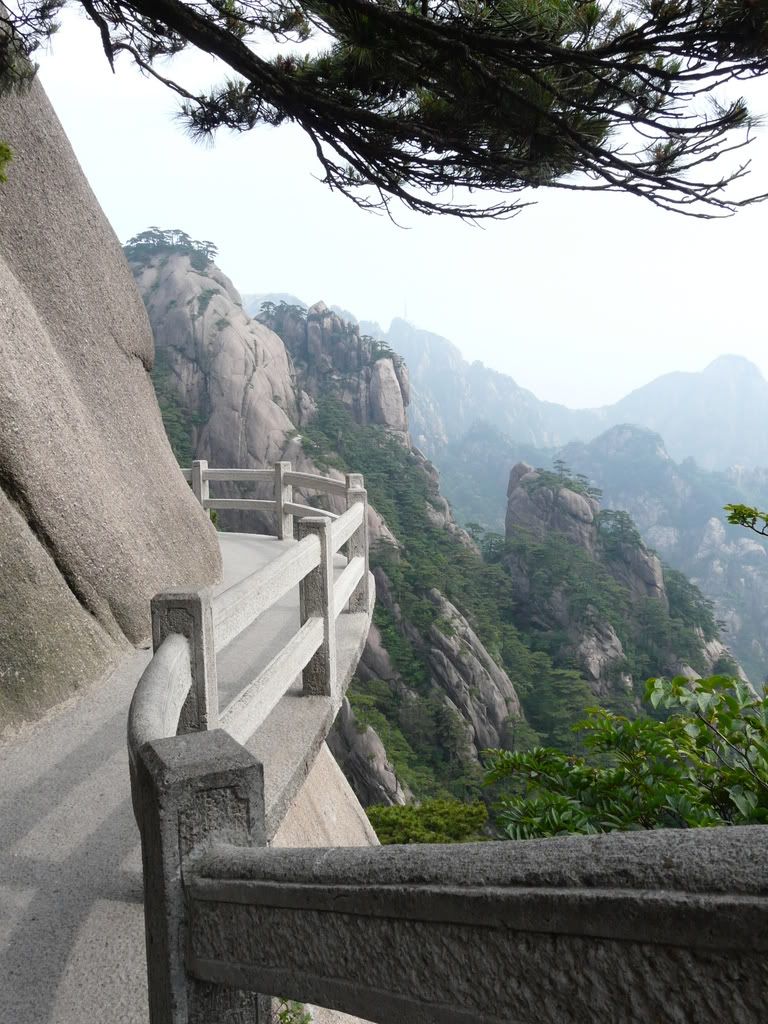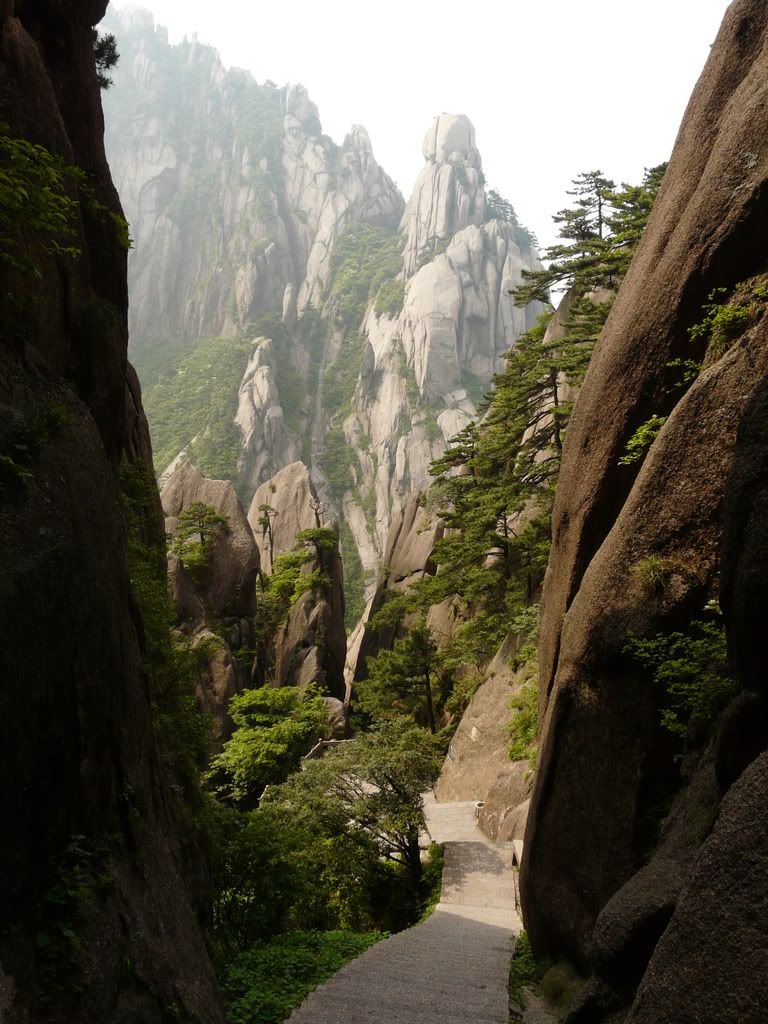 The western steps afford visitors the very best of Huang Shan's scenery. At times they cling to the rock face, hiding a sheer drop of hundreds of feet to boulders below, and offer panoramic views of the surrounding mountains and valley. They trace their way through caves and narrows, in places so tight I had to remove my pack and slide through sideways. They perilously twist up to windy peaks and down the other side, the way made a bit easier (and less dizzying) by hand-holds notched into the rock and taut ropes to grip.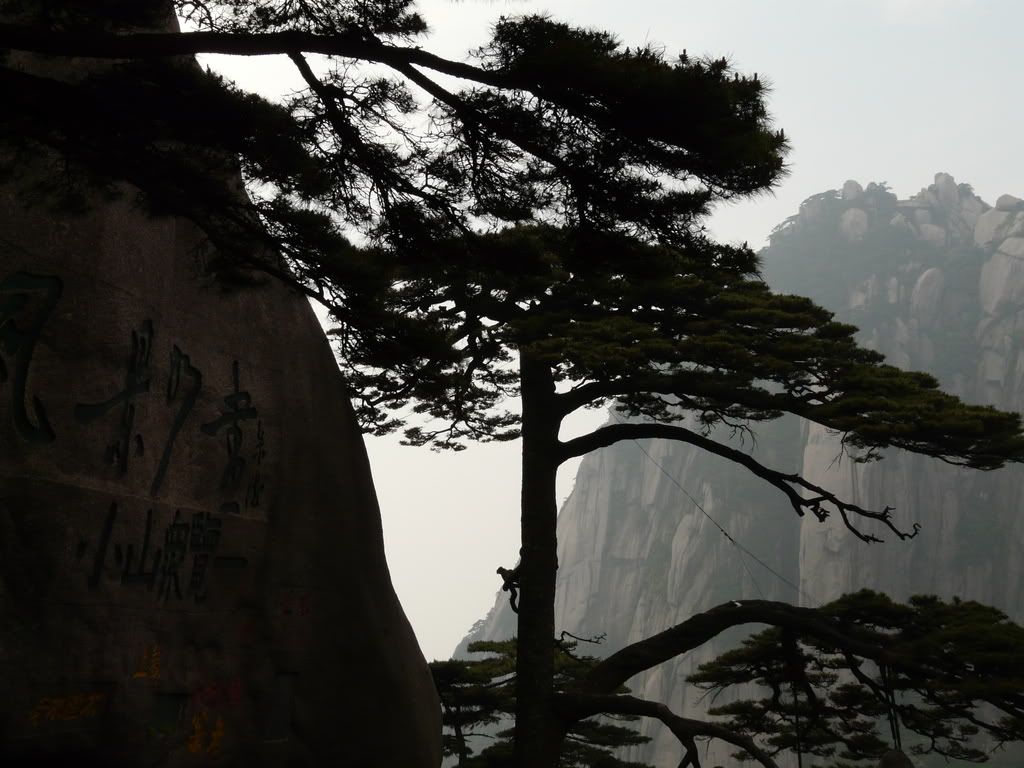 One particular highlight is Yingkesong (Guest Greeting Pine), an 800-year old tree leaning out from the rocks, its crown resembling a man whose arms are outstretched, welcoming. It is such an esteemed symbol in China that it has 24-hour 'bodyguards' that tend to its every need, monitoring soil and atmospheric conditions and making sure that none of the 3,000-4,000 people who make the pilgrimage each day damage the tree by disturbing it or even smoking around it.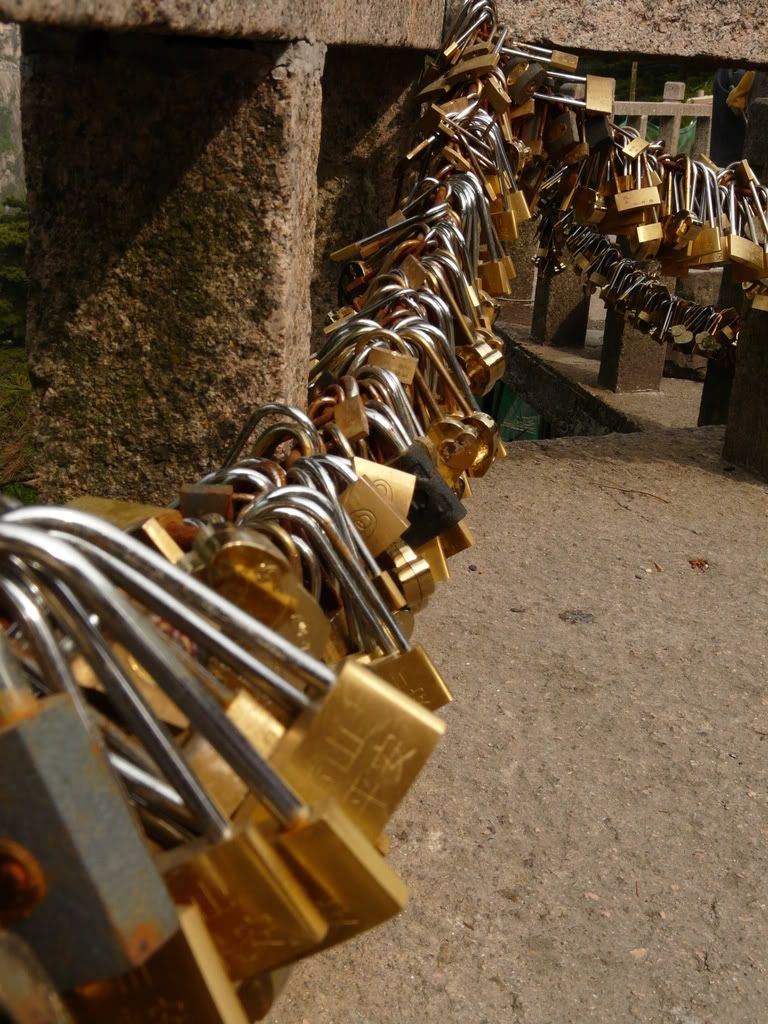 On a side note, atop each of Huang Shan's peaks you'll find dozens of padlocks hung from the chains that surround the lookout (pictured at left). They're called "lovers' locks"; smitten couples ascend the peaks and leave a lock behind, representing the permanence of their love. I thought it a rather unique and charming tradition.
Because I wanted to make it down the mountain and back to Tangkou in time to catch a bus to Tunxi that afternoon, I went a little faster than I would have liked. The landscape all the way down the western steps is, well, breathtaking, and certainly worth taking the time to appreciate. Next time I'll pace myself.
Here's some video I took while walking one of Huang Shan's paths.

Costs: Shanghai to Tunxi bus – RMB 132 (approx. US$19)
Tunxi to Tangkuo minibus – RMB 14 ($2)
Tangkuo to Huang Shan gate – RMB 14 ($2) by bus, RMB 30 ($4) by taxi
Huang Shan entrance fee – RMB 200 ($29)
Huang Shan summit hotel rates range from RMB 100 ($15) for a 6-bed dorm to expensive luxury suites.
And by the way, don't make the same mistake I did and wear hiking boots. The steps were only about half the length of my boots in some places, so I would have been safer and more comfortable in athletic shoes with decent grip.