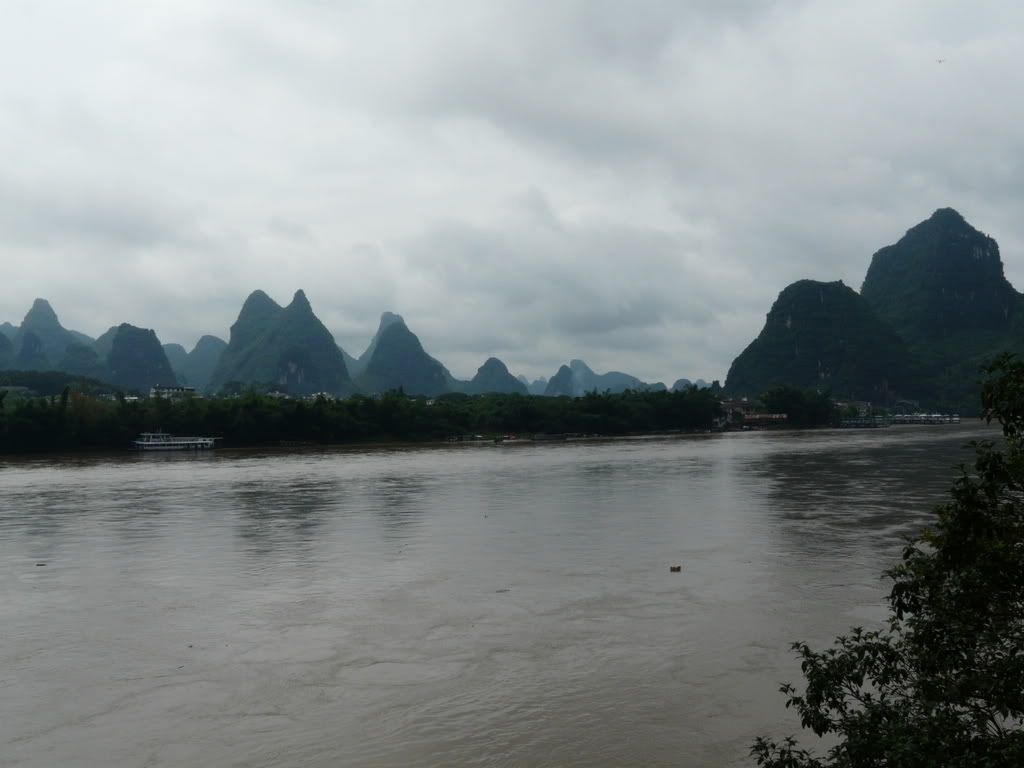 Planing, training, and busing my way south from Shanghai a couple weeks ago, I stopped for a rainy day in Yangshuo, a quaint backpackers' town in Guangxi province. Looking back I easily could have spent two or three days exploring the area around Yangshuo, which abounds in stunning karst topography, caves, and two picturesque rivers that cradle the town.
Arriving on an express bus from Guilin shortly after 10 a.m. on Monday, I walked out of the station, bought the world's most poorly crafted, lavender-colored poncho from a street vendor, and headed directly to a bicycle rental tent. Most of Yangshuo's attractions, the karst peaks and caves that dot the tourist maps, lie a few kilometers in every direction from the town center, and riding a bike or a scooter is the best way to get to them. So I handed over 20 Yuan (US$3), checked to make sure my bike wasn't going to fall apart half a kilometer down the road, and set to pedaling southward.
I opted to spend my day apart from the tourist throngs and aggressive touts that surround Moon Hill (picture at left from guilinchina.net) and nearby caves, so I broke off from the main road and took a soggy path along the northern bank of the Yulong River. The rain held constant at a
light drizzle, and I stopped periodically to admire the landscape and watch as tourists on bamboo rafts were paddled lazily down the river. Sadly, despite draping myself ridiculously in tattered, lavender plastic to take pictures in the rain, most of my photos from the afternoon suffer from water droplets on the lens.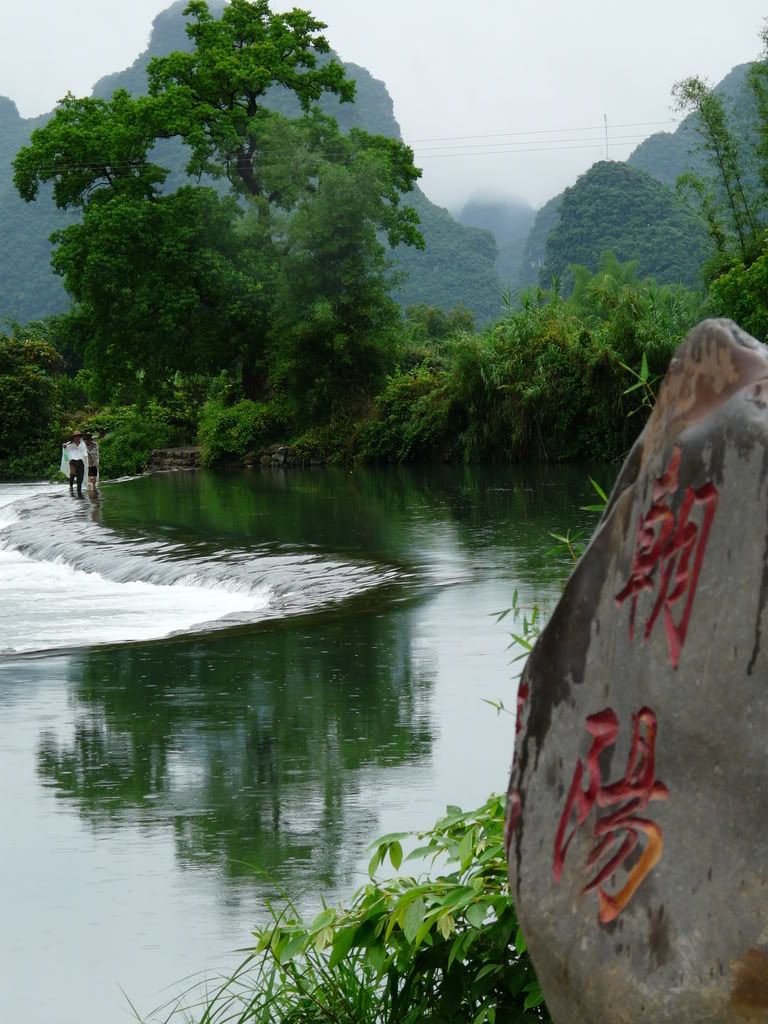 I hadn't bought a map of the area, thinking that if I stayed within sight of the river, there was no way I could get lost. But many of the trails along the river were only a foot wide, and in the rain they became bogs too slippery to navigate. So I improvised a bit. In doing so, of course, I did get lost, but I'm awfully glad I did. With the rain getting heavier, my meanderings led me through a floating village, where canals crossed rectangular rice paddies and connected a handful of tiny shacks on stilts. A lady in an army-green jacket and conical hat led a water buffalo torso-deep through a canal to drink. At the moment, though, most of the villagers were huddled on a covered porch looking out at me, no doubt wondering why this rain-doused and mud-besmirched Caucasian was pushing his bike across their rock path, smiling dumbly toward them.
I eventually found my way back to the river and pushed on toward my goal, the 600-year old Dragon Bridge that spans the Yulong River. As I neared the bridge the sky unzipped. I took refuge under a concrete overhang, but the rain showed no signs of slowing down. Some tourists who had just shoved off on their bamboo raft passed me by; I could see the misery on their faces. I myself was about 15 km from Yangshuo now, facing a couple hours to ride back the way I had come, which would now be almost impassable in spots. I didn't have a choice. Off I went.
Back in town and utterly soaked, I returned my bike and made my way down Xi Jie (West St.), the main commercial artery of the town, to find some dry shorts for the evening. In no mood to haggle, I plopped down the RMB-equivalent of US$15 for the sartorial equivalent of rice paper and went to my hotel to dry off, warm up, and rest. I stepped out in my wispy-but-dry shorts at sunset for a quick dinner at a vegetarian restaurant, took a quick stroll around town, and retreated to my room for the night. When I awoke the next morning, the rain was again torrential.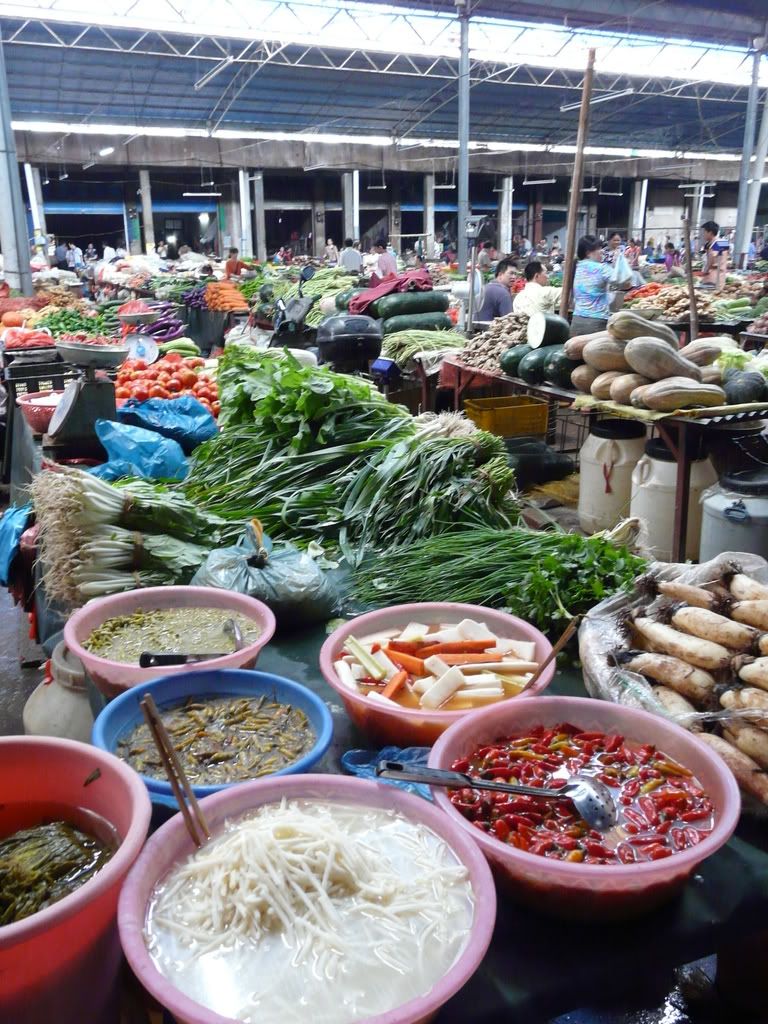 I packed up, checked out, and sprinted from my hotel, a blurry lavender streak on an otherwise empty street, to the Yuan Ming café for a cup of Yunnan coffee and a breakfast sandwich (both were delicious!). By the time I finished my meal the rain had eased up enough for a walk around town. I stopped into the market, where farmers and fisherman filled rows of stalls with gorgeous fruits and vegetables, live chickens pacing in cages, hanging slabs of newly butchered beef, pork, and goat meat, and buckets of swimming river fish, eels, snails, frogs, and turtles three-to-a-sack.
The rain finally departed Yangshuo late Tuesday morning. Boarding a bus back to Guilin, I wished I didn't have to leave Yangshuo with it.