In many ways, finding myself in Singapore after months of touring Southeast Asia felt like being at home in the States again. It's extremely orderly (it's known as a 'fine' city, where even chewing gum and dancing in public are subject to penalty), westernized (woe to the international fashion designer that doesn't have at least eight stores on Orchard Street), and cosmopolitan (they have a Hooters). If I'd come across a Waffle House in Singapore I probably would have lost my bearings entirely.
And yet, standing in the middle of the Chinatown district, it occurred to me that I was probably as far away from home as I have ever been. I don't mean that in an abstract, philosophical way, but in a concrete, geographical one. Consulting the skewed map of the world I've kept in my head since childhood — where countries are amorphous pastels and Greenland takes up most of the northern hemisphere — Singapore seemed to occupy the exact opposite end of the planet from my home.
I looked it up, and I was almost right.
As it turns out, where I stood in Singapore is 10,010 miles (16,016 km) away from my house. I'd have to have gone south another 2,400 miles more to reach my exact antipode, which sits a thousand miles west of Perth, Australia, in the middle of the Indian Ocean. There doesn't appear to be a landmass near my antipode, so I can't really go and plant a flag, but you never know. Maybe it's really a tiny island populated by hyper-attractive people and a handful of polar bears.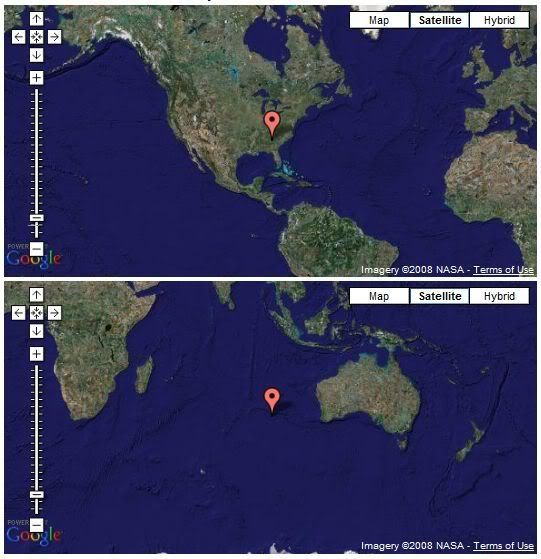 Anyway, if you're curiosity takes you in the same geekward direction mine does me, this site will tell you the exactly opposite place on the planet from wherever you happen to click.
What's the farthest you've ever traveled from home? Don't know? Check out earthmeasurements.com for an easy point-and-click calculator that will tell you the distance between any two positions on the globe to two decimal places. (Note: you can use it to double-check to make sure they're not gypping you on frequent flyer miles…)