I had a long Wednesday ahead of me, and I wanted to get the earliest possible start, so I left the guesthouse at 5 a.m. to find a tuk-tuk driver. Still smarting from nine hours spent on a bike seat the day before, I was really looking forward to the sweet, forgiving padding of a tuk-tuk carriage. I hadn't walked thirty feet when a driver zoomed up to me. I told him all the places I'd plotted to go, most of which were quite a distance from Siem Reap. There was no way a tuk-tuk could navigate some of the roads we'd have to travel to fit them all in, he told me, so I'd have to go by motorbike or scratch some of the stops. Against the protest of my hind end, I opted for the motorbike. We agreed on a price ($32), borrowed a second helmet from another driver, and tore off into the darkness, leaving the tuk-tuk trailer and its oh-so-sweet, oh-so-soft seat to languish at the side of the road.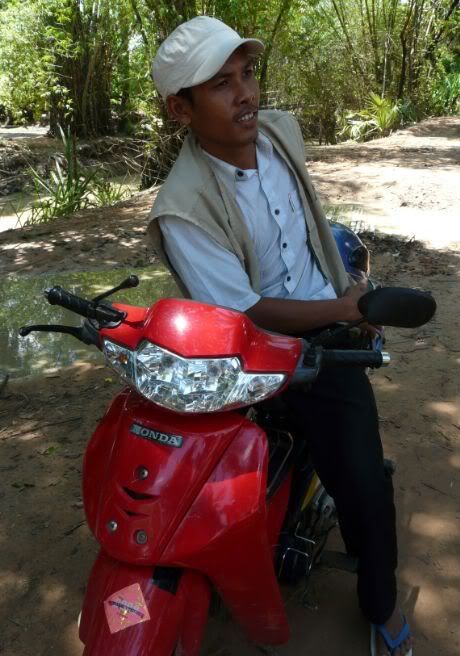 [One point of interest: Lonely Planet sorely understates the price of a hiring a driver. You can expect to pay $10-15 for a day's worth of shuttling around in the vicinity of Angkor Wat by motorbike, $20-25 by tuk-tuk, depending on the distance. As is the way, when gas prices increase, so will these.]
Our first destination was Beng Mealea, an Angkor Wat-era palace more than 70 kilometers from Siem Reap. The first 40 km of the ride saw us speeding down the well-paved and relatively boring National Road 6, until we broke off to the north shortly after sunrise, heading down a cratered, mixed-surface road that connects several tiny villages, where the residents were just beginning to stir. Cico, my driver, had spent his entire life in Siem Reap but had never seen Beng Mealea, and he seemed as eager as I did to tromp around the ruins. Amazingly, on arriving we found we had the place completely to ourselves.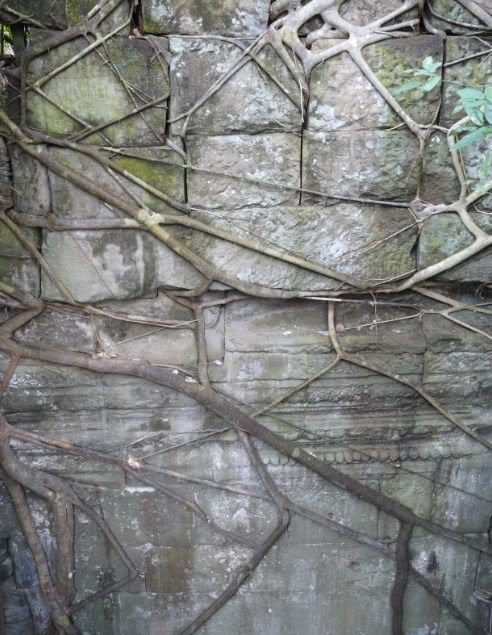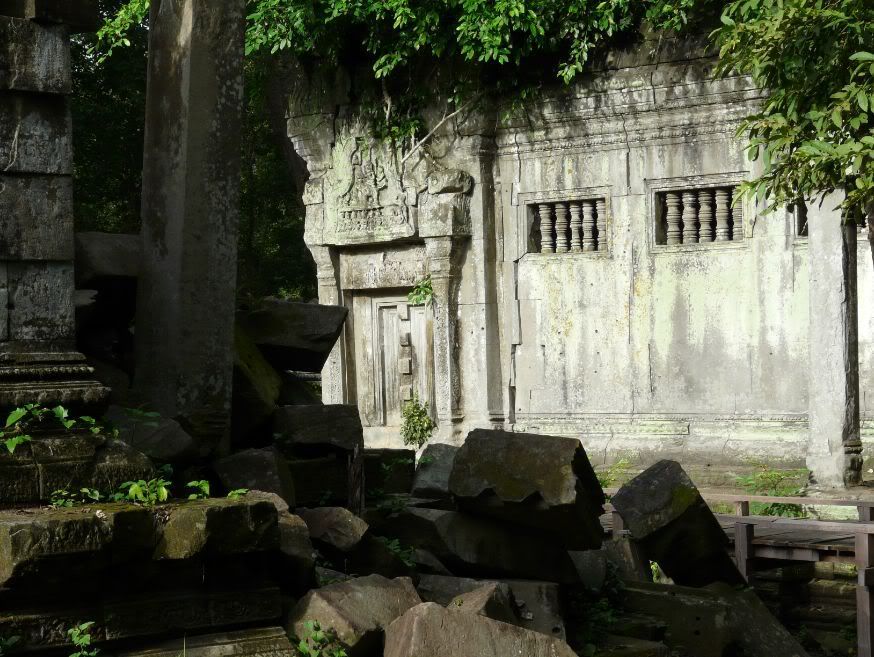 Abandoned for centuries to the closing maw of the forest, Beng Mealea is one of the most ruined of the ruins. Most of the former construction has been reduced to an enormous pile of rubble within the decaying palace walls. What remains standing is grown over with groping tree roots and a brilliant layer of moss. The early morning sunlight slicing through the foliage gave the scene a romantic quality; were there not a long, wooden walkway coursing around the grounds (or a man selling $5 admission tickets at the entrance), it would be easy to trick yourself into believing you had discovered this marvel for yourself. Due to its distance from the main circuit around Angkor Wat, it's probably the least visited of the ancient sites, but one that's definitely worth a stop if you have time.
Next we rumbled down rough and muddy roads between Beng Mealea and our second stop, the enchanting river carvings at Kbal Spean. A night of heavy rains had left the last half of the way in awful shape, but Cico managed somehow to keep the tires churning on the four-inch tendons of dry dirt and rock between prodigious pools of sludge. After 90 minutes of repetitive trauma to my hind end, the mile-long hike required to reach the carvings was therapeutic.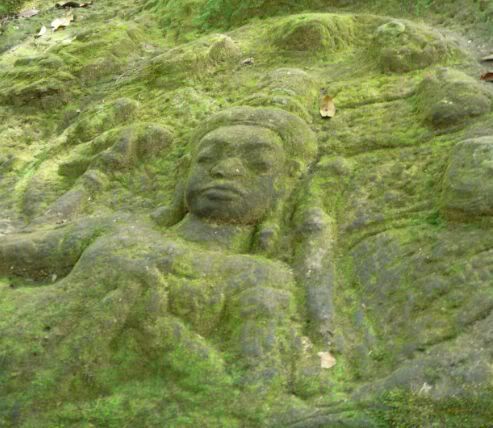 The river rocks are engraved with wonderful images of Hindu deities and animals, and Sanskrit inscriptions. Somehow they remain well defined and vivid despite being run over by wind, rain, and river water, not to mention the sediment it carries with it, for hundreds of years. The area isn't very well marked, and I would have missed most of the carvings had not a guard volunteered to show a few of us around, offering what information he could in broken English. Thanks to him, Kbal Spean was one of the highlights of my trip.
Nearing midday now, the air was as humid as a cloud and the sun oppressively hot, even beneath the forest canopy, so before heading back I stopped for a few minutes at the riverside for some swigs from my water bottle and to shake the crumby remnants of an addled bag of sugar crackers into my mouth. Lunched and refreshed, I rejoined Cico at the trailhead and we motored onward.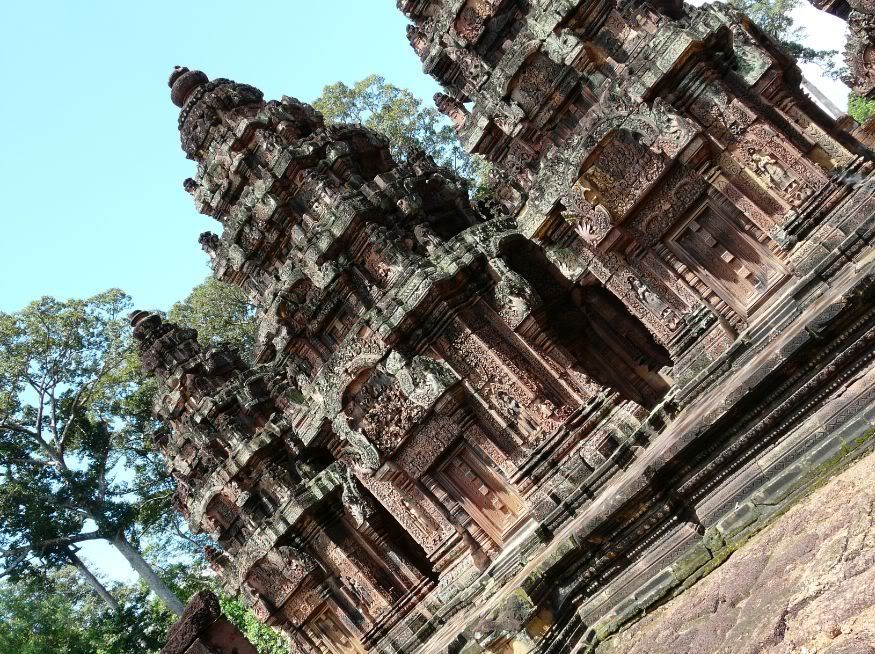 Banteay Srei is simply incredible, but I don't recommend going there in the late morning or early afternoon. It features the most ornate and beautiful relief work of any of the temples I visited, but provides little in the way of shade, and its character gets washed out by the potent midday sun. It's certainly the calmest time to visit, as most of the tourist groups disappear to Siem Reap during the lunch hours, but there is a reason they do so.
Finally, after failing to make it through the gate the prior day, I rounded this day out with a stop at Ta Prohm. Just in case I ran out of time before I got a chance to go back and see it, I had belittled Ta Prohm in my head as "nothing special, just more crumbling stone blocks and some gnarly trees." And I was right, except for the "nothing special" part. The place is instantly memorable. The trees are not merely gnarly, but the gnarliest – their gargantuan roots cascade like dam-bursts over the sides of meter-thick sandstone walls, which buckle and crack beneath their weight. If these trees could spring to life and do battle like J.R.R. Tolkein's Ents, we'd all be doomed.
As Wednesday afternoon expired into darkness, likewise did my visitor's pass pass, so to speak. I was OK with it, though. After three days and more than a dozen temples, I was finally ruined for ruins. Thursday morning would see me to the floating village and flooded forest of Kompong Phhluk. This was feeling more like Lord of the Rings all the time.