With the heat index in Hanoi camped out at 107°F (42°C) this afternoon, I find myself daydreaming about becoming a Bennett-cicle in some distant snowscape. Hence, a two-parter about Lapland adventure travel. For the first part, let's take a look one of northern Scandinavia's main attractions, the Northern Lights…
For a detailed explanation of the phenomenon of the Northern Lights, or Aurora Borealis, check out this page. [Basically particles shot out by the sun are captured by the earth's magnetic field and urged toward the poles, where they collide and react with gas molecules in the atmosphere; these reactions give off energy in the form of light of varying colors. So around both poles, the sky periodically plays the stage to dazzling aerial light displays. In other words, sometimes the atmosphere seems to be filling with beautiful, glowing goo.]
The Northern Lights are better known than their southern counterparts simply because it's easier to access a vantage point near the north pole (Norway, Sweden, Finland, Iceland, Canada, Alaska, etc.) than to get to Antarctica. And getting you within view of them is the focus of today's post.
You can fly round-trip from London (Stansted Airport) to Tampere, Finland for only £40 ($80) on Ryanair. Daily trains head into Lapland from Tampere.
Your chances of seeing the Northern Lights are highest during the winter months, especially between November and February, when daylight occupies just 4 to 6 hours of the day in northern Scandinavia. And the farther you remove yourself from the fluorescence of civilization, the easier it will be to see them. There is a lot of debate about the 'best' place to see the Lights, but truly the best place to see the lights is where the skies are the clearest. Here are a couple of options:
1. Kautokeino, Norway — The driest and coldest place in Norway, Kautokeino an ideal place from which to gaze. It is also the cultural center of the indigenous Sami people (whose descendents include Joni Mitchell and Renée Zellweger, incidentally). The tiny town — whose population numbers a meager 3,000 — is hardly a tourist mecca, but you can arrange to spend the night in a lavvu, a traditional Sami dwelling similar to a Native-American tepee. Maybe that only sounds appealing in a sweltering Hanoi summer.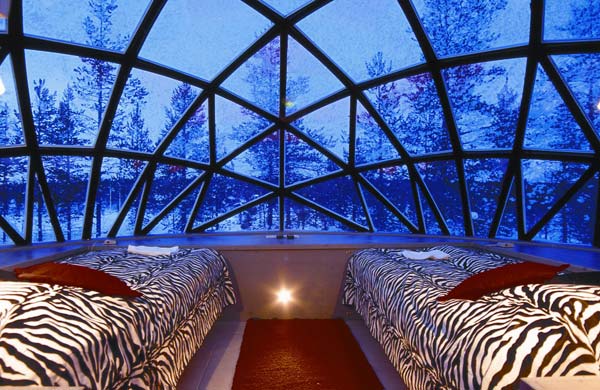 2. Kakslauttanen, Finland — The Hotel & Igloo Village Kakslauttanen offers a bit more in the way of creature comforts. Accommodation options include log cabins, glass igloos, and proper snow igloos. For the view alone, I think I'd have to go with a glass igloo. Besides taking in the Northern Lights on a clear night, you can check out the ice art gallery, go ice swimming, or give ice carving a shot. I'm sensing a theme, and it is numbness. I couldn't find rates on the hotel website, but according to this company's site, it looks like you can book two persons' transportation from London and accommodation for three nights (one each in glass igloo, snow igloo, and cabin) for £2,354 (or $3,711). Hey, they've got to pay for those imported zebra comforters somehow…