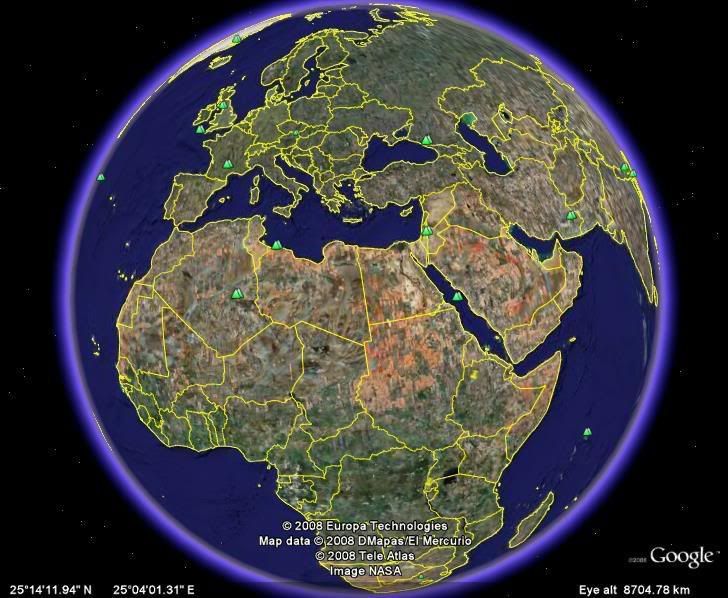 Ah, the wonders of Google Earth! Not only can you set the planet a-spinning as fast as you can move your mouse, or watch the sunset across the earth's face as the Man in the Moon sees it, but you can also plot your next extreme vacation in a few clicks. In fact someone's already done a lot of the work for you.
In a Google Earth Community forum a user is compiling a list of the world's superlative places: hottest, driest, tallest, most likely to secede. Kidding about the last one. The exact locations, with descriptions and interesting facts, are then highlighted on Google Earth (see the tiny green triangles on the map above). So if you've got a Guinness Book-fixation or are just extreme-ly curious, it's all mapped out for the going.
Added bonus: The next time someone tells you about their epic, life-threatening ascent of Mount Everest, you can say "Wow. One of the world's tallest mountains. Pretty impressive." They'll doubtless reply, "Everest is the tallest, not one of the tallest. I nearly died." And you can retort, "Sure, from sea level it is. But the world's tallest mountain is actually Mauna Kea on Hawaii. 33,472 feet [most of it underwater -- you should leave this part out]. I drove up to the top, ate a Go-gurt, then drove back down to my hotel, where I enjoyed a refreshing nap." Got 'em! Incidentally, travel one-upping is not the best way to make friends.
As the list seems to be the product of one person's work, it's not a comprehensive one; if you know of others that aren't yet listed, suggest them.