The night before I boarded a bus to Hanoi last week, I scoured the internet for a quality map of the city. None of the usual suspects (Google, Mapquest, et al) offered detailed enough information. That's when I stumbled across Vinacarta.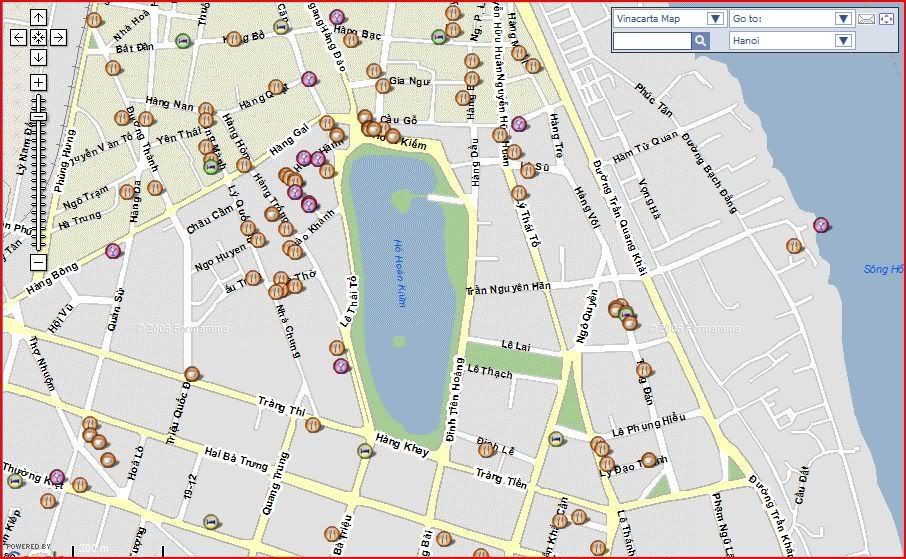 Vinacarta offers a fantastic set of info-maps for major cities in SE Asia, and it's extremely easy and intuitive to use. Whether you're looking for shops, restaurants, parks, etc., or simply trying to get oriented, Vinacarta is the best site I've yet come across to help you. It's basically a mashup of Google Maps and Citysearch.
Just zoom in on a part of a particular city, then select what interests you from the menu at left. Instantly every relevant business in the database is highlighted on the map, with the accompanying address, a description, pictures (if available), and links to reviews of the place. Instant gratification.
Of course Vinacarta has its limitations. Its information isn't comprehensive; only fifteen of the largest cities in SE Asia are covered, and among those, it's nearly impossible to account for every tiny side street and mom-and-pop shop. So Vinacarta doesn't. Also, it's missing the one function that makes Mapquest and Google Maps so handy: 'Driving Directions'.
But these are minor quibbles, and ones that might be addressed in time. Given how useful (and unique at the moment) Vinacarta is, it's a bit ridiculous to complain.