After three straight days of being roused from sleep when only bats and meth addicts remain awake, it felt indulgent to wake up Thursday to my cell phone's jingle at 7:30 a.m. I showered merrily, prepared a daypack, and found Cico waiting in his tuk-tuk outside my guesthouse at 8 a.m. as planned.
We were headed to Kompong Phhluk, a floating village about 90 minutes from the town of Siem Reap, at the northern end of Tonlé Sap, the largest freshwater lake in Southeast Asia. To get there, we'd take a tuk-tuk as far as the boggy dirt road would allow, then hop on a longboat to make the rest of the way by canal.
Our boat captain couldn't have been much older than sixteen, but he wore the look
of ease and experience, as if he'd been born in the boat and never crawled out. He nonchalantly steered us down the canal, turning the wheel with his left forearm, maneuvering the stickshift right-handed without glancing down, and controlling the throttle with his bare left foot on the pedal below. Every now and then he would switch feet, letting the unoccupied one rest on the steering panel so the wind could tickle his toes.
For most of the year, the waters of Tonlé Sap Lake funnel down and join the Mekong River in eastern Cambodia before spilling into the South China Sea in southern Vietnam. During the dry season the lake covers an area of about 2,700 square kilometers and is just one meter deep. But during the rainy season, from June to September, the water level of the Mekong rises so dramatically that the flow of water actually reverses back into Tonlé Sap. Its area nearly sextuples, to 16,000 square kilometers, and it reaches depths of eight or nine meters. Outlying villages whose abodes spend the dry season towering above the ground on seven-meter stilts are brought within a toe-dip of the water at the lake's midsummer peak.
These unique seasonal flows drag sediments up from the Mekong and enrich the floodplain with nutrients, so that during the rainy season the fish stock goes bonkers, making Tonlé Sap one of the most fertile lakes in the world. More than 3 million Cambodians live in countless tiny fishing villages like Kompong Phhluk and are sustained by their catch. And the nation as a whole gets 60% of its protein intake from Tonlé Sap. If the lake weren't there, Cambodians would all be two-and-a-half feet tall and Angkor Wat would be in miniature. Tonlé Sap's important, is what I'm saying.
Twenty minutes after our longboat hove into the narrow canal, the dense mangroves lining either side of the waterway finally receded, opening up into the heart of Kompong Phhluk. We were suddenly loomed over by stilt houses, where whole families sat on their front porches, weaving baskets, their infant children clinging to the railing and staring out at us as we passed. One or two boats were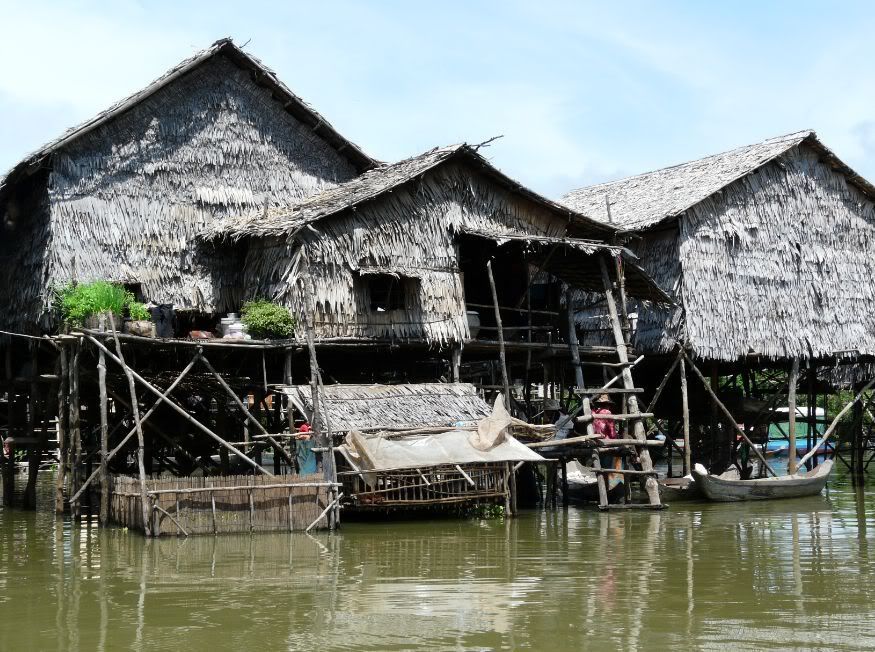 tethered to the ladder of each house and filled with reels of fishing line and stacks of handmade, bamboo fish traps.
To our left a woman crouched to slide a tray of rotten vegetables into a floating pen, stirring the lolling pigs inside it to attention. To our right a fence of vertical, tightly bound bamboo rose two meters out of the water, inside which the villagers raised their own fish.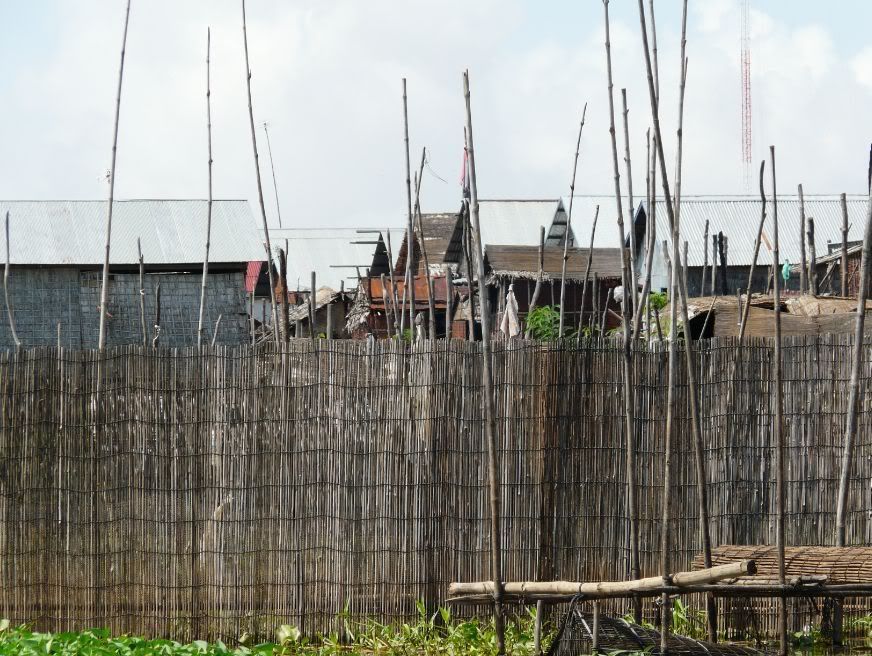 A woman and her child rowed out in a flat boat with a cooler full of cold water and soft drinks for sale.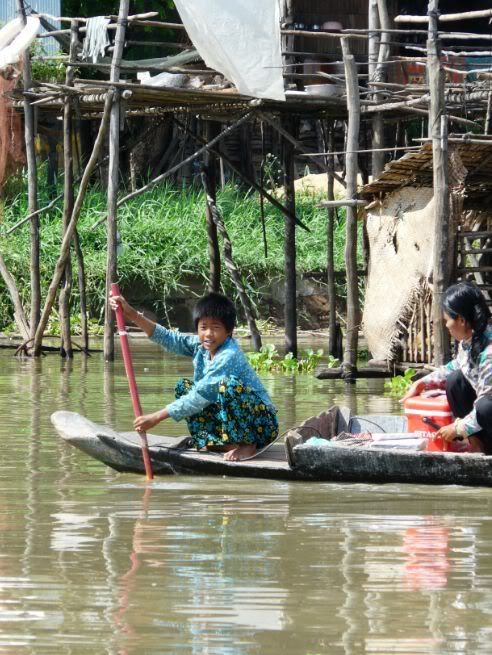 Kompong Phhluk, because of its relative inaccessibility and distance from Siem Reap, is less frequented by tourists than Chong Kneas, but tourism is still an important source of income for the villagers. Although I was the lone tourist in our boat, I got plenty of attention from paddling peddlers. Several boats zoomed alongside ours, the women and children laying down their oars to latch onto our rails, offering me refreshments, colorful children's books, and even pencils and pens.
The village itself is fairly small, perhaps thirty stilt houses altogether, and in a couple minutes we passed beyond it and into the flooded forest. The forest was too dense for the longboat to pass through, so Cico and I climbed onto a smaller flatboat piloted by a local mother and her son. She sat at the bow, pulling us deftly between gaps in the trees only an arm's length across with strokes of her thin oar, while her little boy manned the rudder in the back of the boat, dragging his oar on either side during particularly tricky maneuvers.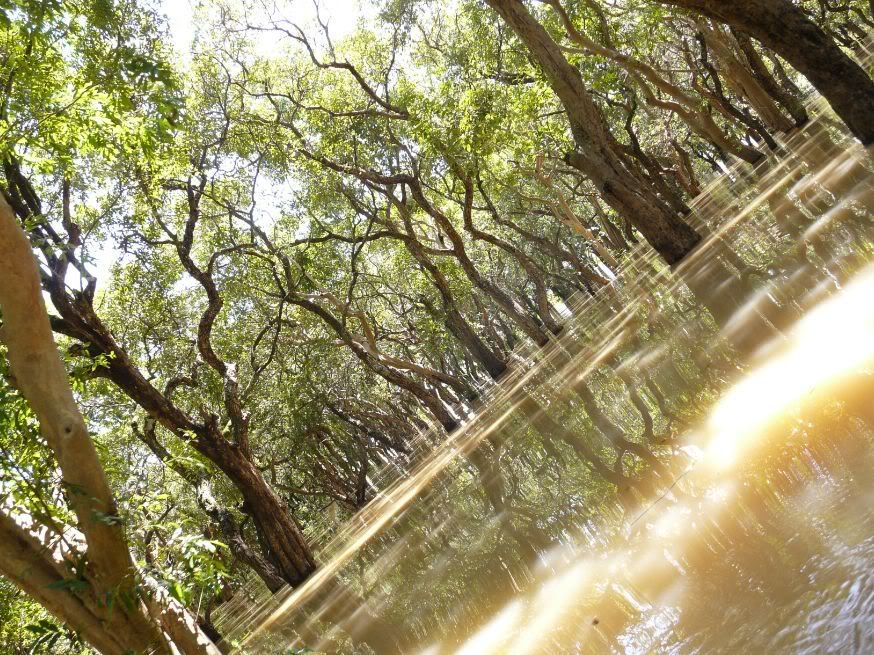 The only sounds in the forest were the burble of the long, thin oars agitating the water, the chirping of birds and crickets, and the plopping of frogs into the lake. Fist-sized tree frogs leapt constantly from positions of concealment on limbs, alarmed by our passing. The little boy pointed out several camouflaged ones that crouched in wait only a short distance from our boat, but I was hopeless at spotting them unless they jumped. Luckily I was equally hopeless at spying snakes. The mother said that there were plenty of them in the area, and that it wasn't uncommon to pass beneath one coiled on a branch or to have one swim right up to the boat. It's better not to think about what might have happened had we been approached by a snake, though it probably would have involved my "accidentally" falling into the water later on to hide the wet spot.
We piled back into the longboat and reversed back down the route we'd come, through Kompong Phhluk and down the tight canal to the waiting tuk-tuk.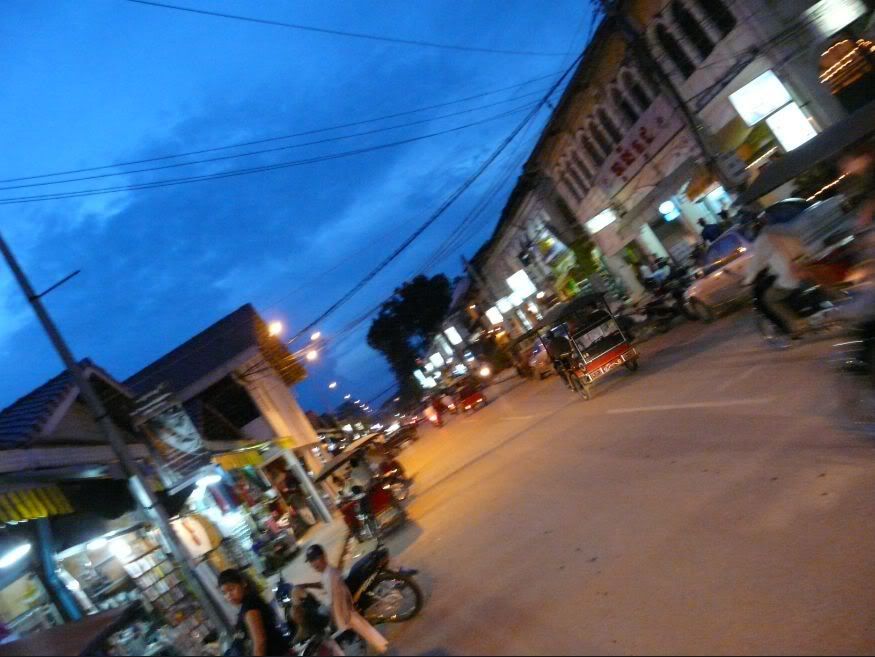 Cico dropped me off at the guesthouse in mid-afternoon, and I spent that evening walking around Siem Reap. After a fantastic dinner of amok fish at Khmer Kitchen, I got an iced coffee from Joe-to-Go — 100% of whose profits go to the Global Child, an organization that sets up schools and safe houses for Cambodian street children — and buzzedly perused the night market and a few nearby handicraft shops before retiring to my room to pack. I was sad to be leaving Siem Reap after an unforgettable week, but the next day Whitney and I would reunite in Malaysia to begin a new adventure together.