Hey there, flashpackers! It's Angkor Wat Week here on theflashpacker.com, for no other reason than that's where I just spent four wonderful days. And since Angkor Wat is also one of the most consistently astonishing places on this glorious planet, it gets its own week. Whit and I are in transit today through Malaysia, so we'll start small with a short post on some of the area's less imposing sights: its monkeys.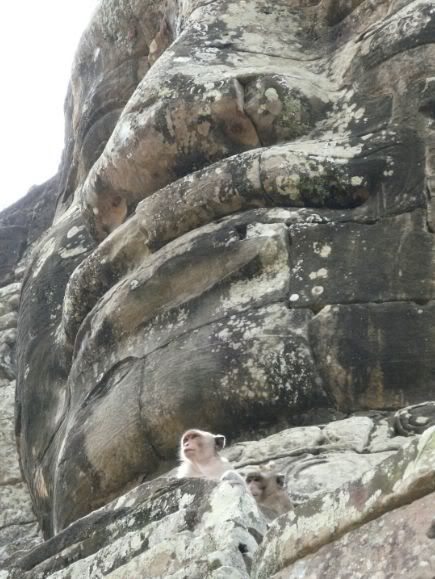 Nearing noon on my first day of exploring, the sun was withering, and I, having been up and at 'em since 4:30 that morning, decided to head back to Siem Reap for lunch. Returning through the enormous southern gate of Angkor Thom, I noticed a few tourists shuttling around to take photos in earnest. The gate is pretty photogenic, but not that photogenic, so I stopped and to see what the spectacle was. Turns out a huge group of monkeys were camped out around the gate, playing together and scrambling up rocks, logs, and, as it turned out, the limbs of tourists.
As I wandered over to a triangle of downed trees, I was greeted by a bemused-looking European couple under siege. The gentleman had a monkey perched on his right shoulder, tugging absent-mindedly at the skin of his cheek like a massage therapist with an attention deficit. Another one dangled from his upper arm, slapping his string-suspended lens cap around like a piñata. I thought the young lady with him had managed to avoid his fate, when a third monkey emerged mischievously from the cascade of her red curls. She gave a shout as the little guy grabbed a handful of locks and yanked.
Sensing my amusement, the gentleman-cum-jungle-gym offered to transfer one or both of the scoundrels to me, but I politely declined. I'm told I share more than nine-tenths of my DNA with the little guys, but that's all I want to share with them.
Frankly, monkeys are just about all I need to see to make a trip worthwhile. But I promise, there's a bit more to Angkor Wat than monkeys. Tomorrow I'll share some of it with you… Thanks for reading!