Let's face it. Unless your home is strewn with authentic keepsakes from when you navigated the Amazon on a homemade raft or that time you revived a caribou that had collapsed next to your Mongolian yert (I'm talking to you, J. Peterman…), photographs are probably your most reliable means of reliving your travels. Most of us who travel the world snapping two-dimensional remembrances are not trained professionals, and even with the incredible pace by which camera technology is advancing these days, our best documentary efforts sometimes fail to capture the elusive quality that made something worth photographing in the first place.
With that in mind, here are a few ideas to help you make the most out of your picture-taking short of shelling out for that $5,000 Nikon.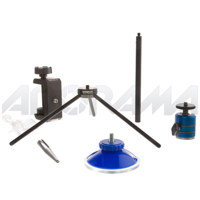 The Novoflex Photo Survival Kit is an alternative to lugging around a bulky and heavy tripod. Basically it's a system that allows you to connect your digital camera to four different mounts: a mini-tripod, a suction cup (for small cameras and phones), a ground spike, and a clamp that can attach to bike handlebars, among other surfaces. The entire kit weighs only 1.3 pounds (0.6 kg) and is small enough (1.4″ deep, 10.4″ long x 7.5″ wide) to fit snugly into your daypack. It retails for $210.
The XShot is a handheld extension than you can attach to your digital camera to take self-portraits or panoramic shots at greater than arm's length. If a fear of social
contact prevents you from asking strangers to take your picture — or if the video-camera-thief scene from European Vacation has scarred you for life — the Xshot is the perfect accessory for you. It telescopes out to 37″ long but retracts to just 9″, so it easily stows away in your pack's pockets. It retails directly from the product homepage for $29.95, or you can save a few dollars at amazon.com
.
The Aquapac is a waterproof camera case with a clear, LENZFLEX window through which your camera can take underwater pictures. The one shown at left is for smaller point-and-shoot cameras (and retails for $40, though you can find cheaper prices at amazon.com), but there are several different sizes to choose from depending on your needs. All the Aquapacs are guaranteed submersible up to 15 feet and also promise to keep out dust and sand, taking the worry out of beach photography.

Next up is Joby's Gorillapod, a lightweight (1.6 ounces) tripod with flexible legs that adjusts to uneven surfaces and wraps around poles, tree branches, etc., to stabilize your camera where a standard tripod would be useless. The original model
, which retails for $24.95, is perfect for smaller point-and-shoot cameras, but it'll only support about 11 ounces (300 grams). Joby makes sturdier models that support up to 3000 grams and cost more accordingly.
I don't think this one's actually been marketed yet, but if it the Flee Digital Camera ever becomes available, I'd love to snatch one up. It's basically an aerodynamic throw-toy with a camera built into it, so you can give it a toss and it'll take pictures from perspectives you wouldn't be able to reach otherwise.
The concept camera is bluetooth-enabled, so it can snap photos in mid-flight and send them to your mobile phone. The real question about the Flee is not how well the in-flight shots turn out, but whether it can even make a second flight after crashing down the first time. The fact that there are no actual Flee-taken photos up on the website suggests that the prototype may not even be a functional one, but what a cool idea nonetheless!
And on a final note, I just downloaded and started using Google's newish, free photo-sharing service, Picasa. Picasa enables you to create a web album of travel photos (or whatever) that you can upload straight from your computer. It's faster than uploading pictures individually to photobucket or flickr, and it keeps your photos organized as you have them on your hard drive. Once they're uploaded you can brush them up and create slideshows and movies, although I haven't got there yet.
Thanks for reading!